Three days to Jericho — Margie and Edna: The Interview
February
9
Once upon a time, a really great show named Jericho was canceled. The fans rallied and convinced CBS to give it a second chance; while they were waiting for the seven new episodes to be produced and then aired, the network decided to re-run several of the first-season episodes.
That begat the Great Jericho Blogging Experiment.
Jericho fans from across the nation recapped episodes for Remote Access each week. And one day, two women who were nuts for Jericho decided they'd try something a little different.
And, thus, Edna and Margie were born.
Of course, like all things in life, it was slightly more and slightly less complicated than all that.
So I asked, in honor of the impending Season 2, Beth and Jane to answer some questions about how the ladies came about.
Enjoy.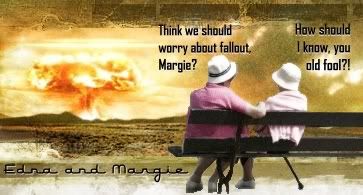 • How did you first come up with the idea for Margie & Edna?
Margie and Edna developed over a series of conversations between the two of us. We had both previously done a re-cap for Remote Access, and we had each separately agreed to do a second re-cap, for "Casus Belli." As both of us recall, it was Beth who approached Jane about joining forces for our re-caps, but it was Jane who suggested that we do it as citizens of Jericho. We started e-mailing and PM-ing each other, and we eventually developed the "voices" of the two sisters while we were working on that first re-cap.
• I know it was so you could do something different for your guest blogging stint, but you two had never worked together like this before, had you?
No, we hadn't worked together before, certainly not like this. We both primarily knew each other as "board buddies" at RFJ prior to co-writing the re-cap. It's been over the course of "being" Margie and Edna together that we've become much better friends.
• How'd you come, specifically, to rest upon the idea of Jericho's oldest residents having their say?
It was Jane who suggested that it would be fun to tell the story of the episode as if we were in the episode itself. It was a fantastic suggestion, and we just sort of developed Margie and Edna organically as we discussed what (and how) we wanted to write. For the both of us, it's been surprisingly easy to let the voices of Margie and Edna come out; they allow us both to be crabby to an extent that we never get to be in real life!
• How long did it take you to write the first time?
We wrote the first re-cap over the course of about a week. We went back and forth with many rough drafts until we liked what we had created. Before working on it, however, we each re-watched the episode and made an outline of the things we wanted to cover in the re-cap. And for that first re-cap, we did all of Margie and Edna's dialogue through online chatting; the dialogue that you read was us actually talking back and forth to each other as Edna and Margie.
• Were you surprised at the reaction to the ladies on the first time out? What happened next?
We were very surprised. We knew that we were making each other laugh, but we didn't anticipate the appeal that the two sisters would have within the fandom. They were very well-received, which was a fun thing for us.
Jane has several blogs, and all of them at the time were Jericho-related. She suggested that we could have a lot of fun if we started doing "advice columns" for the people of Jericho. We started out doing them as if the characters themselves were coming to Margie and Edna for advice, and then Jericho fans started submitting questions for the ladies to answer. We had tons of fun doing those.
• How many things have you two done as Edna & Margie since? How often do you get requests for "appearances"?
We did a series of the "Ask Margie and Edna" advice columns in September and October, and you asked the ladies back to do another re-cap for "Why We Fight" in September as well.
Also in September, we co-write two blogs as Margie and Edna to participate in the Bloggers Unite social awareness campaign organized by BlogCatalog and sponsored by Copywrite, Ink. We wrote two entries, on both verbal abuse and elder abuse, and the verbal abuse blog won second place in the Blog for Hope competition, which had over 10,000 entries. It was a proud moment for both of us. You can see the write-up about Jane and the second-place entry here.
We've gotten requests to do "live" chats at Jeritopia as Margie and Edna, and there have been two of them so far (a third is scheduled for Feb. 10th). We also had a request to do a guest blog entry on the Jericho~on~CBS blog, which was a lot of fun!
We've done other assorted things as the ladies (a blog honoring Veterans for Veteran's Day, a Christmas blog, and a blog leading up the DVD release date). Margie and Edna also have their very own YouTube channel, with a video that we made for the Jericho Digg Day back in October. [Ed note: Click here for a link to everything M&E.]
• What do you think it is about the ladies that struck such a nerve with Jericho fans?
We've been told that it's their funny banter that the Jericho fans find appealing, as well as the fact that readers know that they love each other no matter what they say. Also, it's as if the ladies have inserted themselves into the story, and are able to comment freely on things that they "observe" around Jericho. These are usually observations that the fans themselves make, such as comments about Jake and Emily, comments on some of the "suspension of disbelief" issues within the show itself (such as why everyone looks so well-groomed in the post-apocalyptic world), etc. Finally, some have also said how much Margie and Edna remind them of their own older relatives.
• Any words from the ladies themselves?
Margie: Yes, I'll go first. Edna likes to have time to think before she speaks.
As I was saying, we are very happy to have so many dear friends and family. There's you, Amy, then all the friends who love our town here. I'd like to thank Jonah and Jake and…
Edna: Margie, put a sock in it, no one wants to hear from you, you hussy. Amy, you are so sweet to want to talk to me about our life in Jericho. As usual, my sister tries to hog the spotlight, but she knows that people keep looking to us for advice and opinions because they know I'm the one keeping a tight rein on Margie.
Oh, there she goes, going off all mad in a huff again. Well Amy, you know that you can come and ask us about our little town of Jericho any time you'd like, we'll always make time to talk to you.
• If there's anything else about the whole process you want to tell me, or anything else you want to share, please do!
As we said before, the two of us have become closer friends through Margie and Edna, and we owe the two ladies a huge debt of gratitude for that. We're both very glad these ladies came along when they did. We've had a lot of fun with these two, and we constantly PM each other using their voices. (Which is much less crazy, and more fun, than it sounds.) Keep watching for more from Margie and Edna in the future, they have a lot more to say about the goings-on in Jericho!
Now, for those of you who've read all the way through get a special treat. Check out Trish's blog on the Jennings & Rall website and check out the last sentence of Day 3. I can't tell you this for an indisputable fact, but I can say I'm pretty sure that we all know who Trish is talking about.