March
28
Once upon a time in a small Kansas town named Jericho, bombs fell. The spirit of community and caring for one's fellow man brought hopes of survival. What the town lacked in numbers they made up for in passion. Passion to survive, to live, and passion to save Jericho.
Jericho became the little town that could. It became a town that inspired, nurtured dreams, and fed spirits.
What will be Jericho's fate?
Will Margie and Edna know?
++++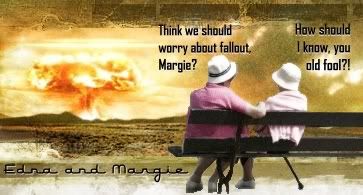 Margie: Edna, you know Mr. Hawkins gave us this phone when he went to Cheyenne because he was afraid something would happen to him. He wanted us to be the ones to tell Darcy.
Edna: Margie, don't you talk like that. Let's hope that we won't have to give any bad news to Darcy. Besides, you know you love having that phone because you think you'll get some inside information with it.
Margie: Well, Edna, I don't want bad inside information. You know it was bad enough that Stanley had to wait four days to bury Bonnie.
Edna: Oh, I know, wasn't that just horrible? With everything else going on in town, and all the hiding-out they had to do, I'm glad he finally got to take her out to the Richmond farm where she belongs.
Margie: Oh, mercy, Edna, it's the phone! It's Mr. Hawkins. What? Who shot you?
Edna: Margie, don't you hog that phone! What's he saying? Who shot who? Is he dead???